Anderson Portable Toilet Cleaning
Porta potties are notorious for being dirty, smelly, and unpleasant to use. However, they don't have to be when they're properly maintained and taken care of. If you want to keep the smell in check and give your customers, guests, or employees somewhere they can do their business without being completely grossed out, call Chastain's Septic Tank Services and Portable Toilets! Not only do we offer porta potty rental services, but we support all our rental units with comprehensive cleaning and resupplying services that fit your schedule.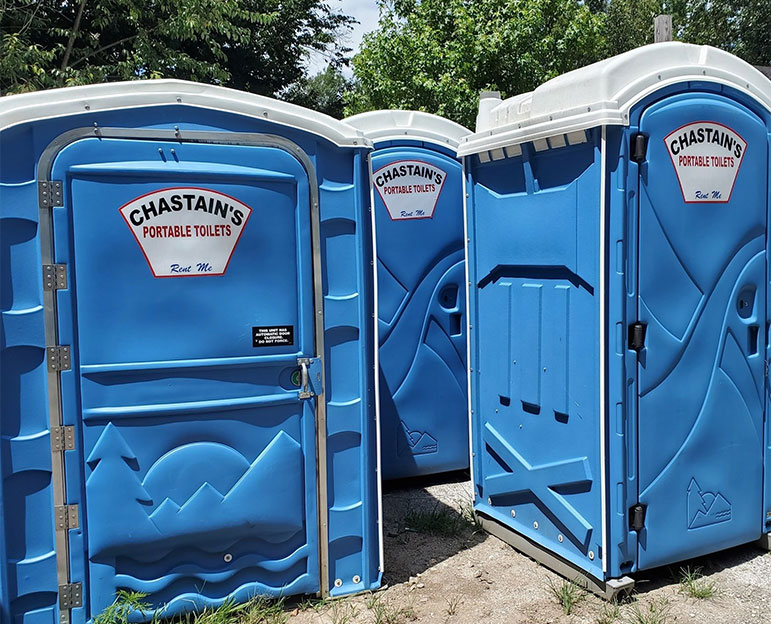 Cleaning, Pumping & Resupplying on Your Schedule
At Chastain's Septic Tank Services and Portable Toilets, we make porta potties easy. All our units arrive at your site ready for service and fully equipped for use. However, we can also ensure your units remain clean in the long-term with regular maintenance. We offer customized plans that provide maintenance on a schedule that fits your needs and your budget, including weekly, bi-weekly, or as-needed services.
Find out more about our maintenance plans by calling Chastain's Septic Tank Services and Portable Toilets at (864) 991-4470 today!
"They came out found the issue, fixed it, and were so friendly and professional about everything!!"
How Often Should Portable Toilets Be Cleaned?
To keep portable toilets clean and pleasant, regular cleaning is essential. The cleaning frequency depends on factors like usage and location. As a general guideline, it's advisable to clean the toilets at least once a week, or more frequently for heavy usage.
How Do Porta Potties Get Cleaned?
During cleaning, the waste tank is emptied, surfaces are sanitized, and supplies like toilet paper and hand sanitizer are replenished. Additionally, thorough inspections are conducted to identify any maintenance requirements. By adhering to a regular cleaning routine, the toilets remain hygienic, odors are minimized, and users can enjoy a clean and comfortable environment.
Regular Cleaning Services
After a while, porta potties can become exceedingly dirty. This is particularly true for units at high-capacity events or located in high-traffic areas where other restrooms may not be available. At Chastain's Septic Tank Services and Portable Toilets, we can keep these toilets clean with comprehensive maintenance when and where you need it. We're the experts in porta potty rentals, so you can count on us to make optimal recommendations that will fit your purpose perfectly.
Portable toilets require restocking and maintenance after a while. Toilet paper rolls and seat liners can run out. Stains may accumulate from splashing or missed targets. Nobody wants to use a dirty, unkempt porta potty, so trust Chastain's Septic Tank Services and Portable Toilets to keep your porta potties palatable and accessible.
Choose Chastain's Septic Tank Services and Portable Toilets for your porta potty rentals and let us make the process a breeze! Don't settle for service that stinks — contact us today and let us show you why we're the ones the community turns to.
Common Areas We Serve
Anderson

Fair Play

Seneca

Westminister

Clemson

Starr